Walk With Me
Film about Thich Nhat Hanh
Bowtie Cinema in New City, NY
November 6th, Monday at 7:30 PM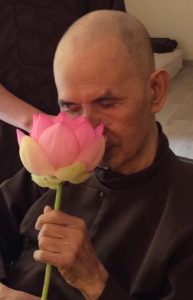 Few teachers have awakened and inspired so many people across the world to the experience of meditative awareness, mindfulness and living a compassionate life. We are delighted to bring this film to Rockland County. Thich Nhat Hanh has meant so much to so many of us who are interested in meditation, mindfulness and living a life of service. Please register now and support this film screening.
See the Facebook event page to register now. The way this works is that only if enough people sign up in advance, will the screening take place. Please help us by registering early. 
Here's a little bit about the film from the film website: http://walkwithmefilm.com/ where you can also see the trailer.
"Slow down and breathe. This contemplative journey follows in the steps of Zen Master Thich Nhat Hanh and is a rare insight into life within a monastic community. ….With unprecedented access, WALK WITH ME goes deep inside a Zen Buddhist community who have given up all their possessions and signed up to a life of chastity for one common purpose – to transform their suffering, and practice the art of mindfulness with the world-famous teacher Thich Nhat Hanh."
Again, this screening will only take place if enough people sign up in advance. Please go to the Facebook event page to register for this one time showing of Walk With Me.